Why I won't get a Google+ Custom URL
Two reasons why I'll stick to my unfriendly, long, Google+ URL.
About 10 days ago I got an email from Google telling me that I'm now "eligible for a unique Google+ custom URL that lets me easily point folks to your profile (no more long URLs!)"
I clicked to see that the reserved URL was google.com/+PanayotisVryonis. I'm vrypan, all over the Internet: my domain is vrypan.net, and "vrypan" has been my username on gmail, twitter, facebook, flickr, youtube, github, you name it. But not on Google+? Why not?
Anyway, after thinking about it for a couple of days, and after Google+ presented me with a couple of even less satisfying options, I decided to go with the one they suggested in the first place.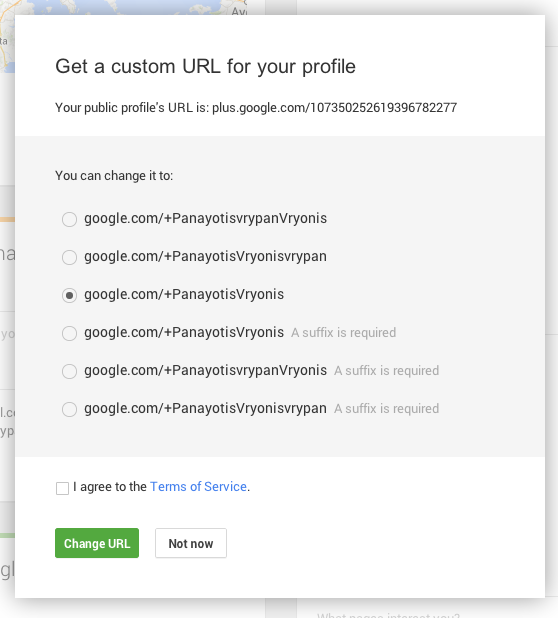 But before clicking "Change URL", I decided to see the Google+ Custom URLs Terms of Use
When you claim and use a custom URL, you must follow the Google Terms of Service, the Google+ User Content and Conduct Policy, and the Google+ Pages Additional Terms of Service (if applicable), and the following policies:

We reserve the right to reclaim custom URLs or remove them for any reason, and without notice.
Custom URLs are free for now, but we may start charging a fee for them. However, we will tell you before we start charging and give you the choice to stop participating first.
Don't include words and phrases in your custom URL that would violate the Google+ User Content and Conduct Policy
Wait, wait, wait! Did they say that they may decide to charge me in the future? And that they may reclaim the URL or remove it "for any reason, without notice"?
A URL is an identifier. I'll use it to identify myself on this service. I'll link to it from my website. I may print it on a business card. Like Google said in their email, I'll use it to "point folks to my profile". But they can take it away for any reason or decide to charge me a (yet unknown) amount of money in the future?
No way. I'll stay with my current, unfriendly one, https://plus.google.com/107350252619396782277/.
I'll do it to prevent myself from using it as an identifier. If you want to find me on Google+, "go to www.vrypan.net and follow the Google+ link".
I'll also do it as a reminder, that Google+ is not a place I own, it's a place Google is kind enough to let me visit and have some limited activity, but they can always kick me off or ask for an (unspecified) rent.
And, in any case, Google+ is not bad, but on the other hand it's not like the first place someone will go searching for me.
---
HackerNews disucssion about this post.