Due to my work, I've been traveling a lot recently. My base is in Greece, and the projects I'm currently involved in are in Benin, Ghana, Zambia, Uganda, Saudi Arabia, Cambodia... well, you get the picture.
A few days ago, I flew with Qatar Airways for the first time in my life. Actually, I was the one insisting on flying with Qatar, because I've heard that they are a very good airline, with very high customer ratings; if only I knew.
So I was flying out of Athens on Monday, 2a.m., to Doha, Bangkok and finally Phnom Penh. The idea was to be by Monday nigh at Phnom Penh (Cambodia) after a 17 hour flight, have my pre-arranged meetings with our client on Tuesday, Wednesday and Thursday morning, and then fly back on Wednesday afternoon in order to be in Athens by Friday noon. (Yes, business trips are not at all like tourism.)
I checked in in Athens on Sunday night, got my boarding passes for the flights, and everything seemed fine.
We landed in Doha at 05:40 local time as expected, I spent some time wondering around the airport and I was at the gate I was supposed to be at the time it opened.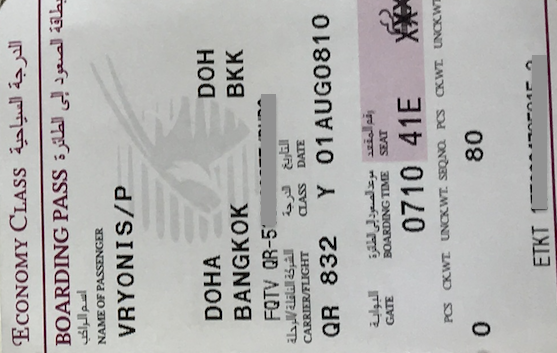 I'm sorry, Sir, you can not board the plane. Please go to the transfer desk for more details! Ask for Robert.
WTF??? WTF??? WTF???
I rushed to the transfer desk, which was not close. But still, I had an hour before the plane closed the doors, so I hoped to sort this out. I mean, I had my boarding pass and my seat number, I had my luggage checked in in Athens to be picked in Phnom Penh, I was sure this was some kind of mistake.
Then, Robert informed me that my seat was given to someone else. Despite my complaints, despite me telling them that I'll miss a full day of meetings, all I managed to do is waste my time. Eventually, there was nothing to be done, as my flight had taken off.
And this is where Qatar proved that they don't give a fuck about me, their customer.
Let's say they had to give my seat to someone else, because of an emergency (personally, I doubt this was the case). They had my mobile phone number, they had my email, they could have contacted me at long before I reached the gate. This would have given me more time to look for alternative flights, maybe reschedule my meetings, etc. Did they care? No.
They obviously fucked up. They turned a 17 hours flight to a 30 hours flight, and this was not because there was a hurricane or an accident. This was because they decided to leave me out, and put someone else in my place.
I would expect that they acted like it. I would expect to hear that "we are terribly sorry, you will fly 12 hours later, but we will upgrade your ticket to business". Or that "we see you have signed up for our loyalty program, we have upgraded you to the next level".
As a customer having a very bad experience that costs me personally (half a day I could have spent with my daughter instead of wandering around in Doha) and professionally (I had to cancel meetings that took time and effort to arrange), I would expect them to do something indicating (even if they did not say it) "we are sorry, we will do our best to make you feel nice even if we fucked up".
Instead, the sent me to a mediocre hotel where I spent some hours (I would have appreciated it if they offered me the option to spend this time at the executive lounge, and not waste some more time driving to and from the hotel), and told gave me a voucher of $250 (which as I was informed by the Qatar kiosk in Athens, I should expect to get in... September).
I know mistakes happen. But you show who you are when you have to deal with your mistakes, and this applies to companies too.
What I feel Qatar Airways told me was "Come on man, you are not important, your time is not important, your business is not important. Here, take a few dolars and shut up." I'd rather not fly with someone who thinks like this about me.