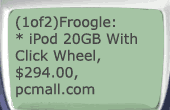 searchenginewatch.com reports: "When Google launched their SMS-based search tool about a month ago you were only able to search the Froogle database by using a specific product name (Treo) or general product category (PDA).
Today, the company added two new search options for SMS-based Froogle searching.
Search for books by using its ISBN (International Standard Book Number).

Search for a specific product by using its UPC (Universal Product Code).
Smarter.Com's is another recent entry into SMS search world. It offers pricing info for more than 100,000 computer and consumer electronic products"
Next time you go to a store, make sure you have your mobile with you!