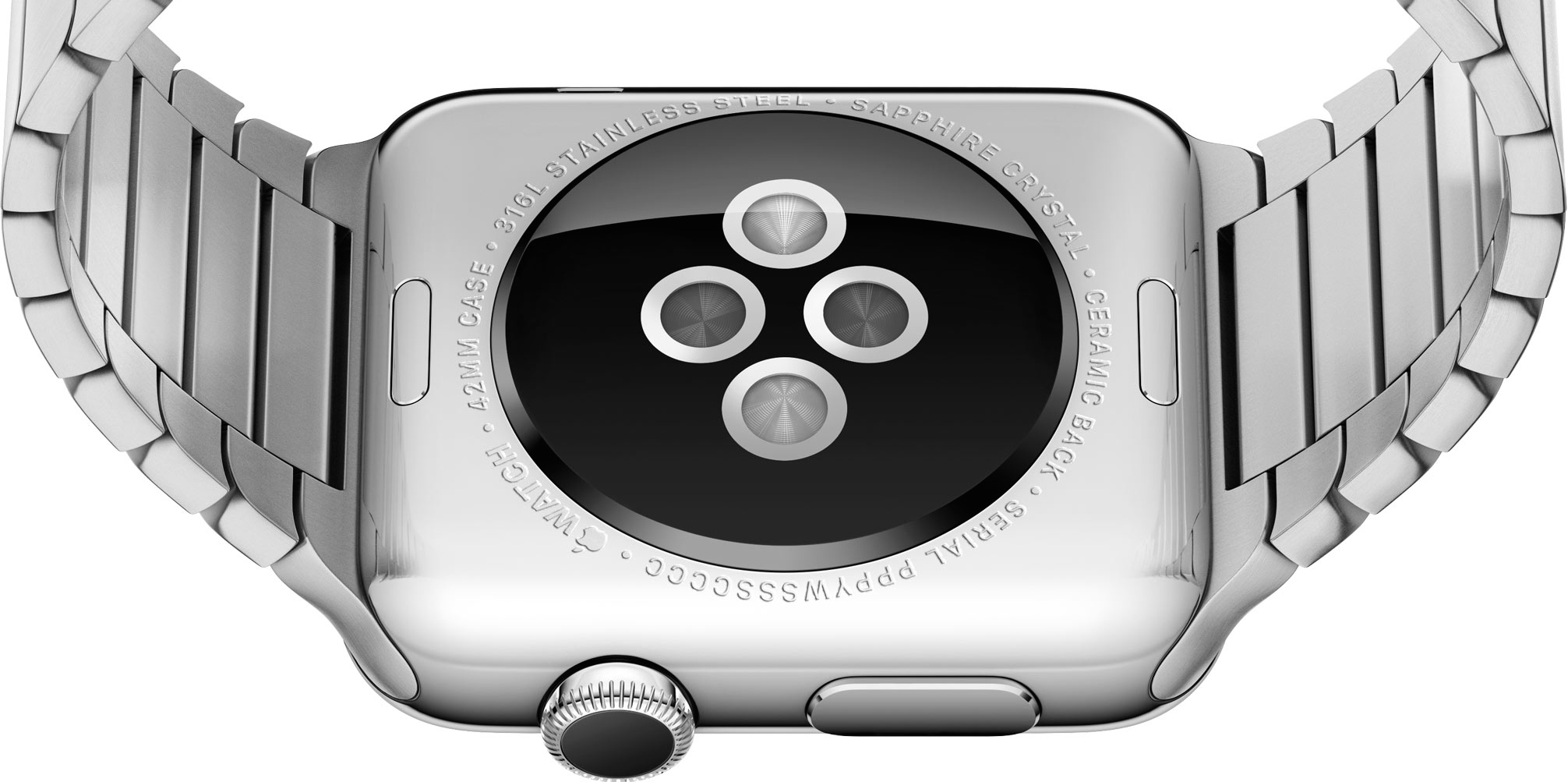 The wrist is a convenient area for collecting data about your physical activity, a task Apple Watch is designed to perform throughout the day. On the back of the case, a ceramic cover with sapphire lenses1 protects a specially designed sensor that uses infrared and visible-light LEDs and photodiodes to detect your heart rate. Apple Watch uses this sensor, along with an accelerometer and the GPS and Wi‑Fi in your iPhone, to measure all kinds of physical movement, from simply standing up to actively working out. This allows Apple Watch to provide a comprehensive picture of your daily activity, suggest customized goals, and reward you for reaching personal fitness milestones.  —www.apple.com/watch/features/
Monitoring daily physical activity is definitely a popular feature. My theory is that this sensor will also have an important part in making Apple Pay work in Apple Watch.
Supposedly, you just have to click the button on your watch to make the payment. But how does your Apple Watch know that it's you doing this gesture and not someone else?
I think that the heartbeat sensor will be used to pair your iPhone with your Apple Watch.
Put on your Apple Watch.
Pair it with your iPhone.
Use Touch ID on your iPhone to verify yourself and give permission to your Apple Watch to make payments using your Apple Pay account.
Done.
As long as you are wearing the watch, all you have to do to authorise a payment is "double click the button next to the Digital Crown". 
Because, the watch knows it's still on your hand. Because if you took it off, the heart rate sensor would know it, right?
---
This article was also posted on Medium. You may leave a comment there.