As you may remember, I decided to give bitcoin a try. Then, I purchased my first bitcoins from a Bitcoin ATM.
After that, I created an account at e-coin (1000 thanks to @kimionis!) and I transferred some of my bitcoins to the account. Using the bitcoins, I purchased a "Bitcoin Debit Card (USD)" which is a VISA pre-paid card. It costs $17 to get the card, you will get a 25% discount is you use this link.

A week later, I got my card via mail. The card did not look like the one shown at e-coin.io and I was a bit confused (I've recently applied for many cards), but then I remembered a conversation at the recent Athens Bitcoin Meetup.
FYI, the card I got looked like this: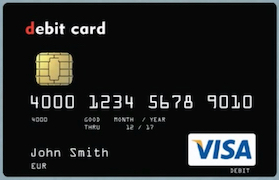 I ignored the activation method mentioned on the card and logged in to www.e-coin.io and activated my card.
Then I loaded it with some bitcoin (BTC 0.105000 in this case) and went straight to pay for my Google Drive Storage. It didn't work! I got an error message, something like "Invalid card". WTF? I panicked. Maybe I should have called the number on the card first? I did so, but after giving my info, it looked like the card had already been activated.
After a couple more unsuccessful retries, it worked! The card was accepted as a valid VISA card by Google, and I was able to pay for Google Drive Storage —and I was extremely happy and relieved to see the warning at the top of my Gmail that "I was out of storage and soon I might not be able to send or receive emails" go away :-)
So, probably I should have waited a few minutes or an hour after I loaded my card (or after I activated it?) to start using it.
So far, I'm very happy with my e-coin.io card. It works, and I haven't seen any charges for using it online apart of the initial fee to get it.
So, from now on, I can use bitcoin to pay for anything I would buy using my credit/or debit card!
A tip: e-coin.io offers cards in USD, GBP and EUR. Pick one based on the currency you will be paying more often, as there is a ~3% transaction fee for paying in a different currency. If you are often using multiple currencies, it may be a good idea to get more than one cards, for example one in USD and one in EUR. Also note that e-coin charges a 2% fee for loading your card with bitcoins.